Cherish The Ladies – Sat, 21st Jan 2023 @ 8p.m.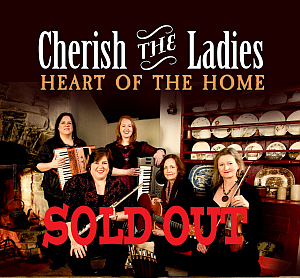 Date :
21, January 2023
Price :
€25
Start Time: 8.00 p.m.
Now Sold Out
For over 37 years, Cherish the Ladies, one of America's most heralded Irish music ensembles, has won the hearts of audiences worldwide with their rousing blend of traditional music, captivating vocals, and propulsive step dancing. To quote The Boston Globe: "It is simply impossible to imagine an audience that wouldn't enjoy what they do", speaking of this Grammy-nominated Irish American super group that formed in New York City in 1985 to celebrate the rise of women in what had been a male-dominated Irish music scene. Since their inception, they have toured the world performing thousands of concerts from the White House to the Olympics, recorded 18 critically acclaimed albums and an Emmy award winning PBS television program, "An Irish Homecoming".
Under the leadership of Joanie Madden, the 2021 National Heritage Fellowship Award winner and All-Ireland flute and whistle champion, these extremely gifted women create an incredible moving experience brimming with sheer talent and exuberant entertainment.  Their March 2022 tour includes All-Ireland champions Mirella Murray (accordion) and Nollaig Casey (fiddle) along with the nimble finger-work of Mary Coogan (guitar), the beautiful vocals of County Clare songstress Kate Purcell (lead vocals, guitar) and the extremely talented County Galway native, Gabriel Donohue (piano, vocals).  World champion Irish step-dancer Michael Holland, Canadian champion dancer (and Chieftains alumni) Nathan Pilatzke along with North American Champions Noel Spillane and Caitlin Ward  will add their magical footwork to the performances.