Stephen Doherty, David Doocey & Siobhán O' Donnell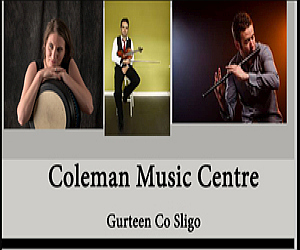 Date :
14, September 2019
Price :
€12
This trio hail from the west. Stephen Doherty and David Doocey hail from Foxford, in Co. Mayo and Siobhan O' Donnell from Aclare in Co Sligo.
Both Stephen & David have numerous All Ireland titles to their name. Stephen brings Accordion, Flute and Whistle to the group whilst David features on Fiddle and Concertina. Both are full time members of renowned singer Sean Keane's band, Siobhán, a multi-instrumentalist plays Bodhran, fiddle, guitar and is a very talented vocalist and also the holder of many all-Ireland titles.