Shakseen – Sat, 20/05/23 @ 8p.m.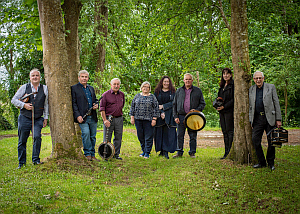 Date :
20, May 2023
Price :
€20
Come west along the road to the Coleman Music Centre, Gurteen, Co Sligo on Sat 20th May  2023 at 8.00pm
for some rousing music & song with the one and only SHASKEEN. Enjoy a live performance in our comfortable theatre as part of their nationwide concert tour. Formed in 1970, original member Tom Cussen is a vital and energetic band leader so a great night is guaranteed.
Tickets available from the Coleman Centre 071 9182599 or
www.colemanirishmusic.com. Adm €20
Traditional Irish Music and Song has been at the forefront with Shaskeen for the last fifty three years, Shaskeen is now a
recognised cornerstone in the Irish Traditional and Folk scene. With a musical line up 8 people of vast experience, sporting
four front line singers, Katie Theasby , Vocals, Flute & Whistles, Mary Liddy Concertina & Vocals, Johnny Donnellan Bodhran &
Vocals, Dave Sanders , Fiddle, Viola, Mandolin & Vocals, Patsy McDonagh on Accordion, Geraldine Cotter on Piano, Eamonn
Cotter on Concert Flutes and Tom Cussen on Banjo & Mandolin. There are hardly any bands playing traditional music and
songs in Ireland today that has the heritage, cultural context, longevity and experience of SHASKEEN, a band of genuinely
skilled musicians, no gimmickry, just instrument wizards, great variety in the tunes, straight-forward arrangements, beautiful
songs, a fierce and collective drive, mighty energy. The versatility from this band is unlimited.
The year 2022 has been very exciting for Shaskeen with lots of concert gigs around Ireland with highlights at
The All Ireland Fleadh Cheoil in Mullingar, The Electric Picnic in Stradbally & rounding off an amazing year in December '22, as
support to The Stunning in Leisureland, Galway Our Concerts are jam packed and entertaining from start to
finish, with a host of reels, jigs, barndances and our Songs are of a wide & varied genre with delicate arrangements.
Please check out a few more recent video links etc.
https://www.shaskeen.net/video/Shaskeen-in-Cois-na-hAbna_39
https://www.shaskeen.net/video/Katie-Theasby_29
https://www.youtube.com/watch?v=d9g-hnt3Nqg
https://www.youtube.com/watch?v=0foBmD7c2_M
Check out. www.shaskeen.net
https://www.facebook.com/shaskeen/