Frankie Gavin & Catherine McHugh – Sat, 29/04/23 @ 8p.m.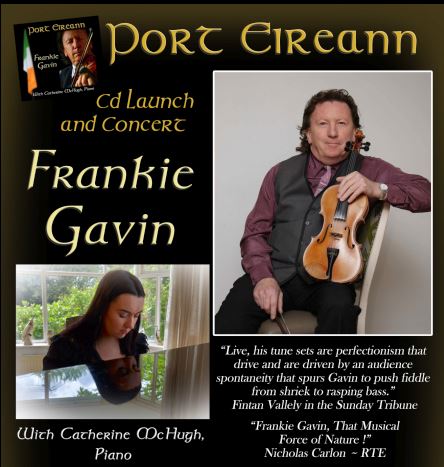 Date :
29, April 2023
Price :
€20
Welcoming to the Coleman Centre:
Frankie Gavin has been playing traditional music since his teenage years. At the age of seventeen, he won All-Ireland competitions for both fiddle and flute. Originally influenced by some of the great Irish and American-Irish fiddle players such as James Morrison, and Michael Coleman, he later found himself playing with stars such as The Rolling Stones, Stephane Grappelli, Elvis Costello and Yehudi Menhuin as well as with some of the great contemporary players and singers of traditional Irish music. All have left their mark on his eclectic approach to music.
Catherine McHugh from Annaghdown, County Galway, Catherine McHugh is one of the most outstanding young accompanists and fiddle players in Irish traditional music today. She grew up in the ancient Maigh Seola territory steeped in legends of Irish traditional music, as a result, Catherine was influenced greatly by the outstanding musicians of East Galway. Catherine is in high demand as an accompanist and fiddle player and has performed at many festivals and concerts, including the Birmingham Trad Fest, Ennis Trad Fest and Féile Strokestown. She recently appeared on the critically acclaimed debut solo albums of banjo player Theresa O'Grady and Sligo accordion virtuoso Daithí Gormley.